Racers
Anthony Antees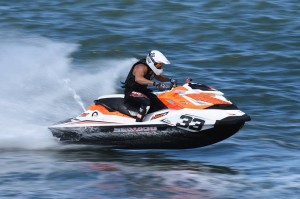 Anthony Antees is from the Gold Coast, QLD. He started out racing formula 2 tunnel boats before moving to PWC racing. Anthony has been involved in racing and the PWC community for 23 years.
Anthony started racing on a 550cc Kawasaki stand-up jet ski then moved to sit-down runabouts two years later. He has predominantly raced Seadoos throughout his career.
Anthony has achieved a number of Australian firsts as a racer:
7 time Pro Runabout Australian champion
2 Pro Runabout podium finishes at the IJSBA World Finals
Winner of Thailand's King's Cup in Pro Open Runabout.
Tam Clucas

I started jet skiing recreationally about 7 years ago, but it wasn't until watching the 2012
World Finals at Lake Havasu (USA) that I decided to buy and learn how to ride a stand up. As soon as I returned to Australia I found my very first Kawasaki 750SXI pro. I started racing it soon after and haven't looked back.
In late 2013 Jetski Shop.com offered me a SXR800 to continue racing in ski lites and they have been a wealth of support ever since and continue to support me today.
I have had such an amazing time learning the sport, and the support I have received from everyone at QPWC has been overwhelming. I have to say in particular – fellow racers Zac Humphries and Emma Harris are truly amazing riders and have encouraged/taught me so much along the way.
I may not always be at the front of the pack, but that's not always what it's about for me – under that helmet I'm grinning and laughing the whole time – just enjoying the ride (so to speak).
My dream is to see racing here in Australia take off and become as big as it is overseas.
Bailey Cunningham
Bailey is 17 years old and races in QLD. He has been racing for two years in the Seadoo Spark class, beginner runabout on a 2016 Seadoo RXP-X 300 and the vintage class on a Kawasaki 550.
Bailey moved from car racing to pursue his love of the Blaster and jet ski riding and got in to racing on a 1998 1200 Blaster. After placing in his first race meet he was hooked. Bailey started racing his Dad's showroom stock Seadoo at the end of 2015 and did well so is now looking forward to the QPWC's 2016 title series' and the 2016 AJSBA Nationals Champions with his dream being to compete at Kings Cup in Thailand and the IJSBA World Finals in the USA.