Events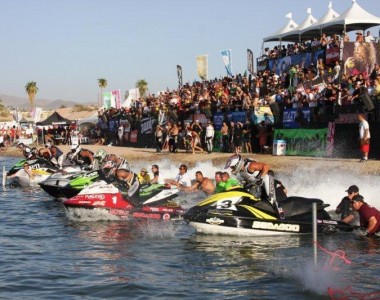 Get involved…
From Juniors to Veterans, anyone medically fit can participate at some level in Jet Ski Racing.  Getting started is as easy as taking your Jet Ski to the next event.
You will need some safety equipment and a competition license.
In general this will consist of;
An Australian standard Motocross Helmet in very good condition
A PFD, good footwear, gloves, Goggles and a government issued PWC license (Juniors may be exempt).
These standards do very from state to state and in different classes of racing so please contact the host Club before any event if you have any questions.
If Racing isn't for you  – Still be involved!
Every event needs volunteers. From Lap Scorers, Judges, Race Directors, Marshalls, Ground Staff, the list endless and theres a way for everyone to be a part of the sport.
For more information contact your local club or the AJSBA.
Racing Rules and Information
Please download and read the current International Jet Sports Boating Association Rule Book
2014 IJSBA Rule Book
Glossary
Freeride Rules